Our online shop
Property Predictions reports are available for immediate purchase and download. Each provides comprehensive insights into a capital city or state as well as carefully calculated predictions about how those areas will change during the coming months.

Shop for Single Suburb Reports
Property Predictions' Single Suburb Reports provide a unique insight into current market conditions in a suburb and how they are likely to change in coming months. If you are interested in gaining an informed insight into a particular suburb before making a purchase, listing an existing property for sale, or simply wanting to understand what is happening in your suburb, then these reports will provide the support you require.

Shop for personalised reports
The Property Predictions database contains detailed information about every property market in Australia for which enough statistics are available. As well as our regular summary reports, we can produce personalised reports focused on the suburbs and markets that matter to you. These reports are an invaluable resource when undertaking due diligence ahead of a new property purchase.

The accuracy of our reports
Each Property Predictions report is based on a range of comprehensive data sets updated on a monthly basis. This provides an informed, holistic view of what is happening in every market across Australia. Our unique Property Predictions algorithms take this data and extrapolate it over time, providing accurate predictions on market movement. During the past five years, our predictions have had an average accuracy rate of 92% for the direction of the market.
Subscribe to our mailing list for our quarterly newsletter, live online webinars and special offers.
During the past decade, our team has developed a unique set of algorithms that can accurately predict the future direction of property prices, for both houses and units, across the country.
How Accurate We've Been
STATE
SUBURBS
ASSESSED
CORRECT PRICE
MOVEMENT
ACCURACY
NSW
1846
1737
97%
VIC
1203
1097
91%
QLD
1275
1143
90%
SA
670
611
91%
WA
682
629
92%
TAS
239
215
90%
ACT
190
169
89%
NT
126
116
92%
TOTAL
6231
5717
92%
Recently Purchased Reports
Testimonials
'A huge "thank you". I moved forward with my investment knowing I had leveraged your vast knowledge of the Australian property investment market.'

– Cheryl D. Rouse Hill
'Your report is incredible. I am so grateful for your research, thank you!'
– Greg M. Newcastle
'Your Report helped me stay focussed on the right suburbs – thank you.'
– Gary J. Melbourne

'I have been LOVING your reports and the results. They have really inspired me to act.'
– Lauren D. Brisbane
'Thanks for your report on the Riverland. I bought a 3 bedder in Berri and it's nearly doubled in price. Great research you provided mate!!'
– Anthony E. North Sydney
Choose your local
property report.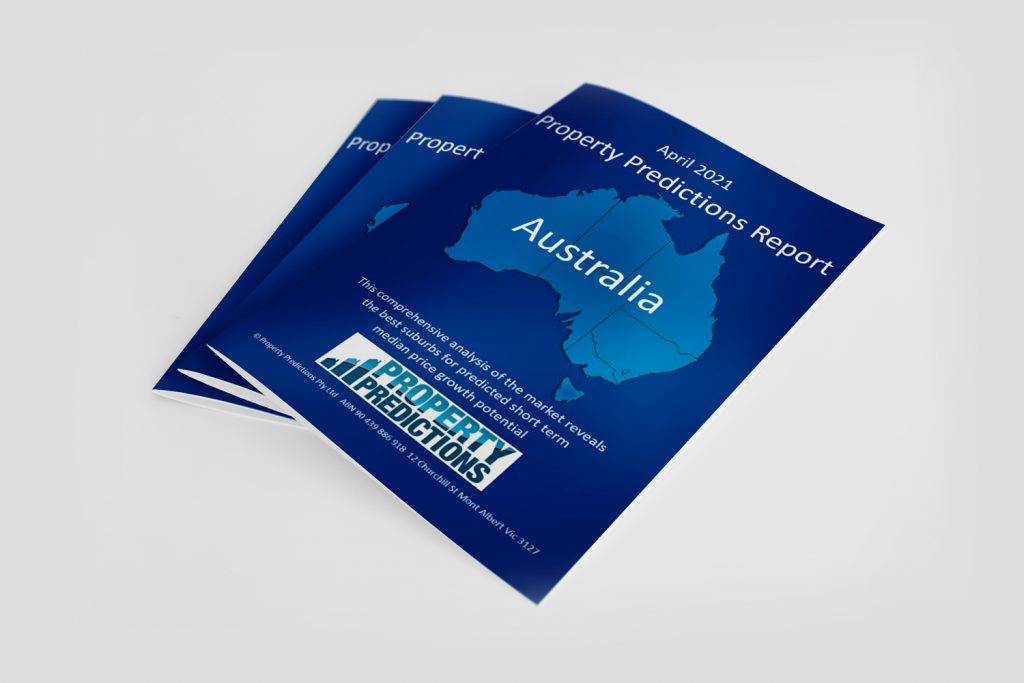 Our reports
Using the insights provided by the database, the Property Predictions team produces a range of reports for subscribers. Each is tailored to give detailed insights into market conditions and the impact they are having on property prices. Our portfolio of reports includes:
Top 20 reports
This report identifies the top 20 suburbs in the nominated state or city, with the highest capital growth potential over the next 6 to 12 months. These suburbs have also been chosen because of the number of properties that are currently listed for sale, their current market conditions and their potential for rent growth.
Buy-hold-sell reports
This report provides comprehensive statistical analysis of a suburb of your choice. Not only does it provide the suburbs current data, but highlights statistical trends and complex algorithmical interpretative predictions about capital growth, rent growth, profitable renovation potential, development potential, suitability for first home owners, and positive cash flow potential.
Personalised reports
Using the wealth of information in the Property Predictions database, the team can generate personalised reports focused on the particular markets of interest to individual subscribers. The reports are based on the most up-to-date market data available and contain the latest predictions generated by our sophisticated algorithms.
An introduction to Property Predictions
---
Operating since 2011, Property Predictions was established with a single goal: to provide informed, accurate, and unbiased insights into the Australian property market. Each month, detailed data is obtained from a range of sources and combined to provide unique insights into current market conditions.
During the past decade, the team has also developed a unique set of algorithms that can accurately predict the future direction of property prices, for both houses and units, across the country. These algorithms show the direction and extent of future price movements, which are vital when considering future property purchases.
Communication
Each quarter, Property Predictions provides subscribers with detailed, informative newsletter containing details on the latest trends in Australia's property market. Comprising details from a range of sources, these newsletters allow investors to stay at the forefront and be in a position to make informed decisions about future investments in the market.
The newsletters are augmented by a regular series of webinars offering property investing insights, strategies, and success stories as well as the latest property market commentary. Keep your eyes on your inbox for our next newsletter and webinar!
Our Database
The Property Predictions database is the heart of everything we do. The database has continued to improve and evolve over the last decade and now comprises of millions of data points the enable unique insights into the Australian property market. Constantly updated with information drawn from a wide range of independent sources, the database offers insights not available anywhere else on the market.

The power of the database is further increased by the unique algorithms developed by the Property Predictions team. With a proven accuracy rate of 92% for market direction, these algorithms accurately predict the future direction of prices in every market across the country.
Register to stay in the loop